Vacuum Freeze dried pet snacks are produced by Vacuum freezing dryer machine at low temperature. The fresh pet food is put into the drying room of the Vacuum freezing dryer machine, and the water in the frozen meat particles is sublimated directly into gas without liquid in the vacuum environment, so as to realize the dehydration and drying of pet food.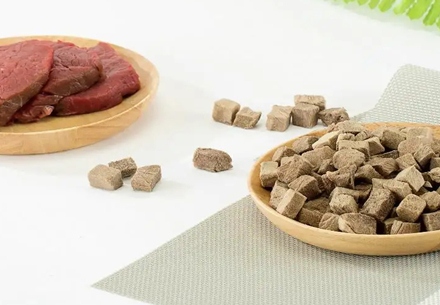 Compared with the traditional drying process, lyophilized pet food has several advantages:
1. Dehydration is complete, after lyophilization, pet snacks can be safely stored for a long time at room temperature.no need to add any preservatives, no special requirements for the ambient temperature of storage.

2.After lyophilization, pet food can maintain the form of fresh food,no shrink and deform.

3.The nutrient loss rate of lyophilized pet food is low. Lyophilized pet food under low temperature and vacuum environment, can lower the rate of various chemical reactions and retain the natural nutrition , keep the original color of fresh food materials on a greater extent.

4. Vacuum Freeze dried pet food is easy to eat and can be eaten directly by animals. No extra processing needed before eating.